Quality High Capacity Hot Tub
Designed to be open, therapeutic and comfortable, the X7 is the perfect hot tub for those looking to maximize their space. With an ergonomic design and open layout this spa is perfect for both relaxing and enjoying the benefits of hydrotherapy with others. The X7 seats up to 8 adults without occupying too much exterior space in your yard.
Brochure / DVD Request
Schedule a Consultation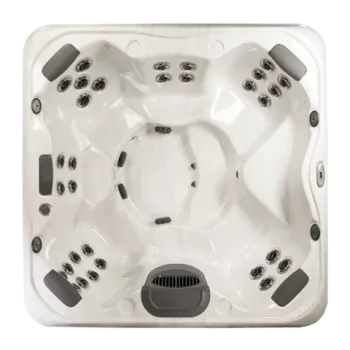 Details
Specifications
JetPaks
Shells & Cabinets
Dimensions
7'4" (2.24m) x 7'4" (2.24m) x 36 (.91m)"
Capacity
JetPaks
Seating Types
| | |
| --- | --- |
| Standard Dimensions (W x L x H) | 7'-4" x 7'-4" x 36" |
| Metric Dimensions (W x L x H) | 2.24m x 2.24m x .91m |
| Seating Capacity | 8 |
| Water Capacity (to normal fill line) | 395 Gallons (1495 Liters) |
| *Dry/Maximum Filled Weight (includes Cover) | 661 lbs./4924 lbs. (300 kg/2234 kg) |
| High-Performance Industrial 56-Frame Pumps | Two 2.5 HP/4.8 BHP/240V |
| Total Pump Brake Horsepower | 9.6 BHP |
| Total Pump Continuous-Duty Horsepower | 5.0 HP |
| Total Jets | 33 |
| EnduraFrame Const/Full-Foam/Molded Base | Standard |
| Premium Rigid Spa Cover | Available |
| Cover Lifter | Available |
| X Spa Steps | Available |
| EternaWood™ Cabinet | Standard |
| Durable 3-Layer Spa Shell | Standard |
| High Density Insulation | Standard |
| Stainless Therapy Jets | Standard |
| LED Backlit Therapy Jets | Available |
| LED Backlit Water Fall | Standard |
| X Comfort Pillows | Standard |
| Bluetooth Audio Package | Available |
| WellSpring Filtration Pump | Available |
| WellSpring Ozone Purifier | Available |
| Premium LED Mood Lighting | Standard |
| Premium Filter Element | Standard |
| Exterior Drain w/ Footwell Drain Fitting | Standard |