Stores
We're hiring! Apply today for Retail, Construction, Service, or Pool Cleaning. Apply in person at a store or comeplete a form fill here on our website.
Stores
Throughout Metro Atlanta and Northwest Georgia, finding a trusted name in swimming pool service and products can be challenging. That is why so many have trusted the name of Brown's Pools & Spas for all of their swimming pool and spa needs. We are home for all pool and spa oweners to find their needs. Our stores have inground pool design centers, above ground pools on display, spas and hot tubs, pool and spa chemicals, Big Green Egg Grills and accessories, parts and equipment, floats and games, on site repairs for motors and pool cleaners, and so much more.
Since 1974, Brown's Pools & Spas has been Metro Atlanta and North West Georgia's home for backyard vacation fun. If you are considering or are already a part of the swimming, soaking, and grilling family, we invite you to visit with us very soon.
Our Mission

We believe we have brought together an array of unique and premium, backyard products in a relaxed, enjoyable shopping environment. As you consider investing in your backyard, we commit to offering you excellent value by combining these premium brands with a sales and support approach that focuses on listening and educating rather than pressuring you.

For pool owners, our mission is to help you effectively maintain your pool water and equipment, with ease and efficiency. We combine the latest in pool care technologies, while providing old-fashioned, honest, and friendly service. At Brown's Pools & Spas, our goal is to build a lasting relationship with each of our customers by providing excellent service.

Brown's Pools and Spas strive to provide a different way of Backyard Shopping. Our stores are a place that provides an Inviting Shopping Environment. Brown's locations don't look like your average pool parts and chemicals shop. Once you step into our stores, we believe you will feel that you are on a vacation: We hope you'll enjoy the colorful atmosphere, tropical music, great gift and backyard decorating items, and most of all the friendly, informative service we strive to give you each and every visit. As well, our Douglasville, Dallas, Newnan, and Carrollton Stores showcase Outdoor Pool Parks. Our displays feature full size in-ground pools and above ground pools, allowing you to see first-hand the features and workmanship of a pool by Brown's Pools & Spas. These Pool Parks will provide design concepts for creating your backyard vacation spot.
Convenience and Quality
Also, Brown's Pools & Spas is a proud Bullfrog Spas and Dimension One Spa Dealer. Our locations provide you with a brick and morter store that you can see in-stock spas and all the products that go with them. We offer Private Spa Test Soak Rooms - Here you are encouraged to try out a spa for yourself before you make your spa or hot tub purchase decision (The Austell Location is the only location that does not feature spas). All of our stores are equipped with Spa professionals who can educate you on the proper spa for your needs.
At Brown's Pools & Spas, we believe in healthy living for your pool and spa, that is why we are a trusted Bioguard Dealer that can provide BioGuard
Computerized Water Analysis. You can buy pool chemicals anywhere, but advice and recommendations specific to your pool and its current condition is what sets Brown's Pools & Spas apart from large box stores. Pool and spa owners can bring a sample of your pool or spa water and we'll test and explain to you what your pool or spa needs and why.
Brown's Pools & Spas strive to focus on the needs of pool and spa owners. While striving on those needs we continue to add products to our stores such as grills, floats and games, and so much more that adds life to the outdoor lifestyle.
Conveniently Located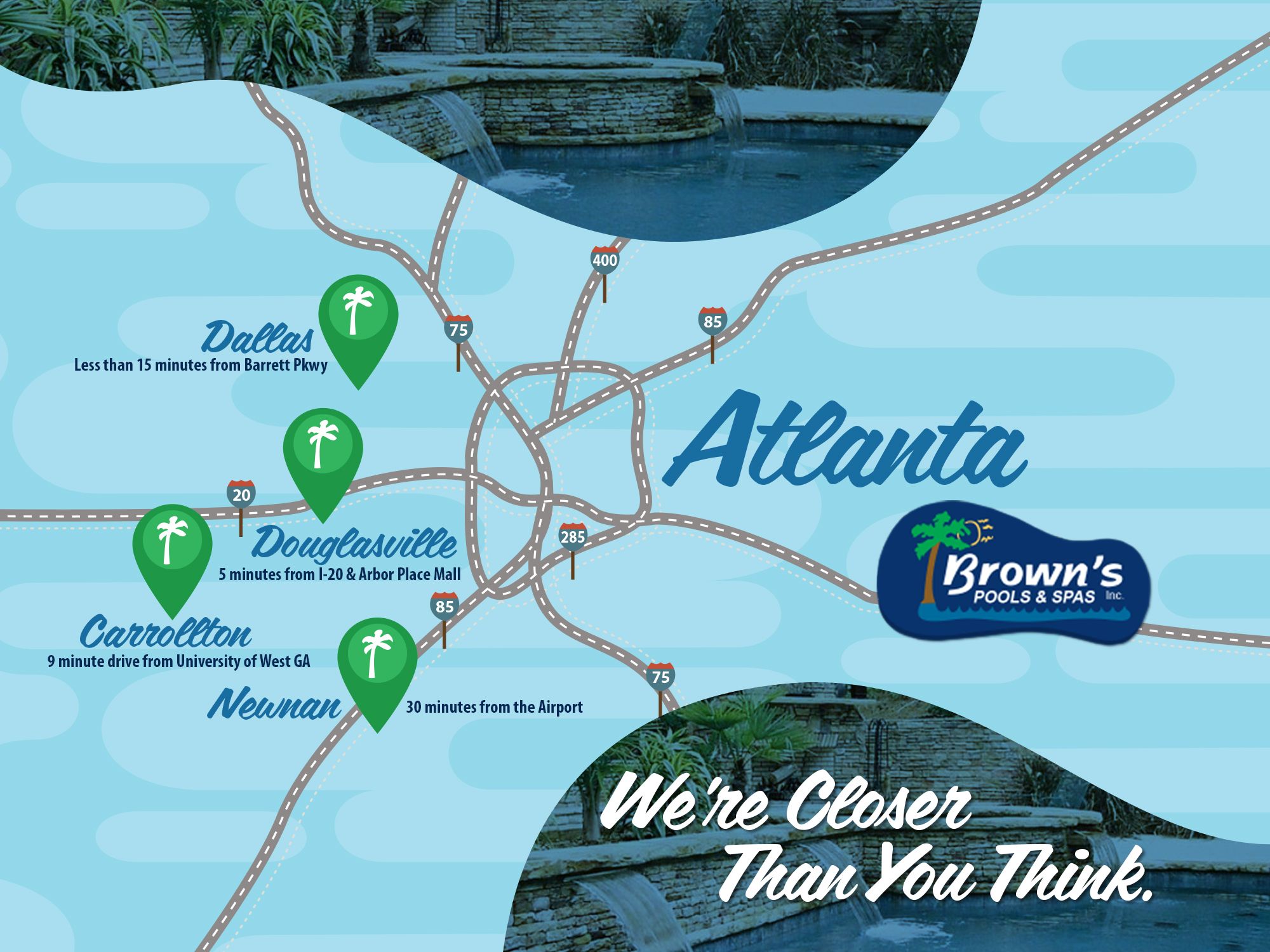 COVID-19 Update
Now is the time to schedule your Spring 2021 Pool Services before the schedule books:
Pool Openings
Sand Changes, DE or Cartridge Cleanings
Vinyl Liner Replacements
Pool Clean-up on green pool
Weekly Pool Cleaning Service
Our Retail Store Locations are open 9 AM- 6 PM Monday- Friday, Saturday 9 AM- 5 PM, and Sunday closed. Our stores do practice social distancing and if the store becomes crowded you may be asked to wait outside or in your car. We do offer curbside pickup, simply arrange over the phone with the store of your choice.