Fiberglass Pool Options | Pool Tiles & Mosaics
We're hiring! Apply today for Retail, Construction, Service, or Pool Cleaning. Apply in person at a store or comeplete a form fill here on our website.
What is the Best Tile for Pools?
There are a few things to take into account when considering different pool tile options. If cost is a factor, note that glass tile is the most expensive. Larger tiles (like a 6"x6") are a better choice for rectangular pools, whereas pools of all sizes and shapes can accommodate smaller fiberglass pool tiles. Ultimately, however, the decision comes down to personal aesthetics and how you envision the look and feel of your pool.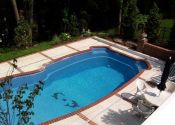 Fiberglass Pool Tiles
A fiberglass pool is a tasteful backyard upgrade in of itself, but swimming pool tiles will subtly enhance the overall effect. Every time you catch a glimpse of the sun glinting off your tiled pool or watch the cool water gently lapping against a brilliant tile mosaic, it will bring a smile to your face. In the same way that the simple addition of crown molding adds elegance to a room in your home, waterline tile adds elegance, sophistication, and customization to your pool.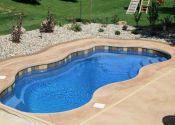 Custom Fiberglass Pool Mosaics
Let your inner artist shine when selecting your pool mosaics; it's your chance to enhance your pool with striking accents. A custom fiberglass pool mosaic can be created to match any pool style, from whimsical to modern chic or a fun character for the kids. We provide titles from Artistry in Mosaics and Custom Mosaics, Inc., two of our premier vendors for stunning mosaic pool patterns.

COVID-19 Update
Now is the time to schedule your Spring 2021 Pool Services before the schedule books:
Pool Openings
Sand Changes, DE or Cartridge Cleanings
Vinyl Liner Replacements
Pool Clean-up on green pool
Weekly Pool Cleaning Service
Our Retail Store Locations are open 9 AM- 6 PM Monday- Friday, Saturday 9 AM- 5 PM, and Sunday closed. Our stores do practice social distancing and if the store becomes crowded you may be asked to wait outside or in your car. We do offer curbside pickup, simply arrange over the phone with the store of your choice.