Plan For Your New Spa
Plan For Your New Spa
Pre-Delivery Guide
CONGRATULATIONS!
Your new Bullfrog Spas will be arriving soon and will become a valuable addition to you backyard living experience. Now that you have chosen the perfect model, colors and JetPaks, there are just a few more decisions to be made and things to consider.
SITE SELECTION
When choosing the location for your new Bullfrog Spa you should consider the surroundings, your lifestyle, and any privacy concerns.
You may want to position your hot tub so that you can take advantage of the most optimal views of your property throughout all of the seasons. Plan for any spa-side accessories you want to incorporate when determining the size of the area you need to for the spa. All of the equipment for your Bullfrog Spa is located behind an access panel in the front of the spa. The spa should not be positioned against a wall or with build outs that would block access to this panel. Keep in mind that after a soothing soak and the incredible relaxation provided by Bullfrog's hydro-massage jets, a long trek across your back yard may prove to be a little inconvenient, especially in the dead of winter.
FOUNDATION
Select a surface that is level and structurally sound. Your Bullfrog Spa may be placed on a deck, concrete pad, patio blocks, pavers, pea gravel or crushed stone. Patios will typically have a certain amount of drop to allow for water run off but it shouldn't exceed 1" over an 8' area. The entire base of the spa should be supported and cannot be shimmed if the area is out of level. If you plan to place your spa on a deck, determine that the decks weight bearing load is sufficient. If the deck is significantly elevated, special considerations need to be made, including whether the delivery will require special equipment or additional manpower which can result in additional cost.

ACCESS FOR DELIVERY

Brown's delivery crew will bring your spa to your home using a specially designed Spa Dolly. When they bring the spa onto your property, the Spa Dolly carries the spa in a vertical position. Depending on the model, it will require 38" – 40" minimum clearance through gates, between the house and side fences, etc. 7' – 10' overhead clearance will also be needed. The dolly does not go over rocks, holes, up or down stairs, over fences, up or down steep hills, etc. To prepare for delivery, all debris, fences, landscaping and obstacles that limit or block access should be removed.
If you have any questions or concerns regarding the delivery or placement of your Bullfrog Spa, Brown's will be happy to perform a complimentary site inspection. Please contact your sales associate with any questions or to schedule a home visit.
ELECTRICAL REQUIREMENTS
Running the electrical wiring for the spa is your responsibility unless it has been contracted with us. We highly recommend that you use a licensed electrician. Brown's is a licensed electrical contractor and if you would like us to perform the wiring for your hot tub, please contact your sales associate. If your wiring for the spa is not to code, or the connections have not been made, the delivery crew will not be able to turn your spa on. Unless you have arranged for Brown's master electrician to run the wiring, the only connection the delivery crew will make is to the spa's circuit board.
A5L/R5L
A7/A7L & R7/R7L
A6/R6 & A6L/R6L
A8/A8D/A8L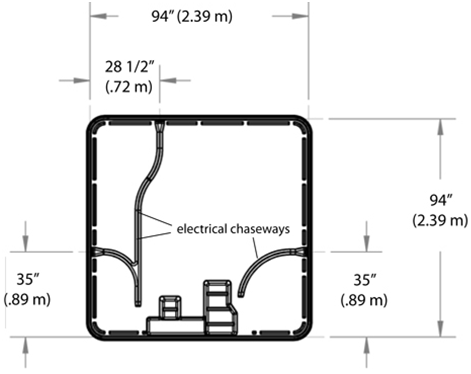 The electrical installation of your Bullfrog Spa must be in accordance with national and local wiring code.
All 240v 50amp spas must be wired using #6 wires. A dedicated, isolated 50 amp GFCI breaker must be in the line and located at least 6' from the spa. A "pig tail" must be attached to the GFCI breaker or disconnect of adequate length to reach the spa's electrical access point with an additional 12' to reach the circuit board inside the equipment compartment. The entire length of this wire must be in conduit to meet code. Each spa will have three electrical access points. There is one on each side of the spa and one in the back. The diagrams on this page show the access points on each spa model and the chaseways through which the wire will be fed.
120V spas must be plugged into a dedicated 20amp GFCI protected circuit. No extension cords may be used on this circuit.
GFCI WIRING DIAGRAM
THANK-YOU!
All of us at Brown's Pools & Spas appreciate the trust and confidence in our company you have demonstrated with your purchase. We are certain that your new Bullfrog Spa will provide you, your friends and family many years of enjoyment.
The experienced staff at any of our locations is available to assist you. We are here to provide any information regarding the operation and maintenance for your new hot tub and as the best source for any supplies, accessories, or service you may need now or in the future.
COVID-19 Update
Now is the time to schedule your Spring 2021 Pool Services before the schedule books:
Pool Openings
Sand Changes, DE or Cartridge Cleanings
Vinyl Liner Replacements
Pool Clean-up on green pool
Weekly Pool Cleaning Service
Our Retail Store Locations are open 9 AM- 6 PM Monday- Friday, Saturday 9 AM- 5 PM, and Sunday closed. Our stores do practice social distancing and if the store becomes crowded you may be asked to wait outside or in your car. We do offer curbside pickup, simply arrange over the phone with the store of your choice.