Options & Accessories
Options & Accessories
The Best Hot Tub Features, Options & Accessories
Make This Your Spa
At our very core Bullfrog Spas are all about making your spa your own.

Bullfrog Spas offers a variety of exclusive options and accessories to compliment and beautify your hot tub. Most of these hot tub accessories are shown here but these are just a few of the options available to enhance your new Bullfrog Spa. If you would like to view a more comprehensive collection of accessories and learn more about how you can perfectly customize your Bullfrog Spa please visit your Authorized Bullfrog Spa Dealer.
Color Choices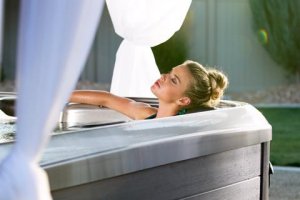 Spa Shells
Bullfrog Spas are focused on allowing you to create your perfect personal spa experience. This doesn't just apply to our JetPak Therapy System. You will also be able to choose from a full range of beautiful color choices to suit your landscape, home, and personal tastes. Choose the spa shell color you like and make your hot tub the perfect expression of your style.
Your spa should reflect your style…
Sapphire

Sapphire is a beautiful deep blue tone perfect for creating a cool calm ambience. It looks great with any of the cabinet colors, especially driftwood. You can design your Bullfrog Spa with a Sapphire shell and Driftwood spa cabinet for a popular seaside look.
Snow
Snow is a sleek and modern true white. Especially popular in Europe and modern homes for its understated elegance, Snow also improves the mood of your hot tub experience by enhancing colored hot tub lighting. Snow pairs perfectly with all cabinet options and looks stunning with Driftwood.
Titanium

Titanium is a stunning silver hue with a hint of metallic lustre. This color highlights the smooth ergonomic curves and features of your spa and compliments the brushed stainless jets for a coordinated look. Titanium looks especially great with the Slat and Ivory premium cabinet options and pairs nicely with Driftwood.
Pearl
Pearl is a warm hue with a deep rich iridescent glow. Pearl works well with any warm landscape or color scheme. Pearl is easy to maintain and beautifully accentuates the contours of any Bullfrog Spa. Pearl works well with all cabinet options but is especially popular paired with Hazelnut.
Sunset

Sunset is a popular marble blend of warm earthtones. This rich marble look is beautiful and a perfect compliment for landscape designs with warm elements. This color looks great with both the Slate premium cabinet as well as the Hazelnut and Driftwood standard cabinets.
Midnight
Midnight is striking dark color that looks much like expensive rich marble. It has a dark base with varying tones of grey, amber, and tan. This spa shell looks amazing with a Hazelnut cabinet but may also be paired with Driftwood for a rich luxurious look.
Platinum

The Platinum hot tub color is one of the most popular. The base color is a smooth silver/white. It is complimented with subtle dark marble-like striations. The combination creates an elegant old-world marble look. Platinum compliments and works with any of the cabinet colors.
Mirage
Mirage is a warm marble hue that is neutral and complimentary. The elegance of subtle striations combine with natural undertones for a classic look of sophistication. This hot tub shell color works well with any cabinet and is especially attractive when matched with Mahogany.
Cinnabar

Cinnabar is a textured earth tone with mineral accents. It is a perfect neutral warm tone to match natural shades of rock and hard surfaces in your landscaping and home. This earthy spa shell color can be paired with all cabinets but looks especially great with Mahogany.
Sandstone
Sandstone is a classic textured spa shell color that depicts the look of natural granite. This beautiful color has a gray undertone with flecks of dark and light minerals. Sandstone is an easy to maintain surface and is neutral enough to work well with any spa cabinet selection.
EternaWood, Maintenance-Free Spa Cabinets
EternaWood™ is both weather and UV-resistant, assuring that it will be maintenance free service for years to come. No staining required! Bullfrog Spas offers 3 stylish EternaWood™ hot tub cabinet colors.
Beautiful and worry-free hot tub cabinets…
Premium Cabinets*
Ivory

Ivory is a new color only available on premium cabinets. The contemporary slat design and rich off-white tone provides the traditional look of painted wood with the modern flat aesthetic that is so popular in home design today. Ivory looks great with nearly every shell color but is especially attractive in combination with Sapphire, Titanium, Snow and Platinum.

Slate

Slate is a new color only available on premium cabinets. The flat contemporary slat design is an aesthetic that is very popular in home design today. Slate's neutral cool grey tone is a perfect way to create a spa look that is clean, fresh and new. Slate pairs especially well with Snow, Sapphire, Platinum and Midnight.

*Premium cabinets only available on A Series spas or standard on STIL.
Standard Cabinets
Hazelnut

Hazelnut is a rich and warm natural medium wood tone that looks especially great with Pearl, Mirage, and Midnight Canyon spa shells.

Driftwood

Driftwood is reminiscent of your favorite seaside vacation. It pairs well with all spa shell colors and looks especially stunning with Snow, Midnight Canyon, and Platinum.

Mahogany

Mahogany provides a rich deep red wood tone for a luxurious look. Mahogany pairs perfectly with all spa shell colors, especially Platinum and Mirage.
X Series Cabinets
Harbor Grey

Harbor Grey is a is a coastal inspired gray tone that looks especially great with Platinum X Series spas.

Mountain Walnut

Mountain Walnut is a a beautiful medium warm toned cabinet color that looks especially great with Sunset and Midnight colored X Series spas.
Spa Controls
Premium Computerized Controls
All Bullfrog Spas come equipped with state-of-the-art computerized control systems. These systems are designed to make operation of your spa as simple and intuitive as possible. Our premium hot tub controls are also engineered to be durable and function for years without any problems in the environment around your hot tub.
Making spa relaxation simple…
CloudControl™ - Monitor & Control Your Bullfrog Spa with Your Smartphone
Bullfrog Spas give you the unique ability to control your hottub from anywhere with your own Android or iOS smart phone. There are several different options for remote spa operation, including control of heating and jet functions as well as certain spa security monitoring functions. Your phone is an integral part of your lifestyle, now you can use it to monitor and control your Bullfrog Spa too! Visit our CloudControl™ page for more information on this incredible hot tub app.
Discover how easy it is to own a Bullfrog Spa…
Auxiliary Spa Controls
Spa-side remote touch pads are available throughout the spa at locations just out of reach of the main control pad. This gives you a simple and convenient way to control the jets without leaving your seat. Relax in your favorite seat with jets on or off at your convenience.
Hot Tub Audio Systems

Integrated Sound

Relaxation, therapy, and good times are all enhanced by your soundtrack.

Bullfrog Spas' audio systems utilize premium components to produce rich sound that wraps around our premium seats and sounds incredible even at low volume levels. Enjoy personal relaxation without waking the neighbors, or turn it up for get togethers and parties. These marine-grade audio systems are compatible with bluetooth-enabled devices including smart phones and nearly all other digital music players. With this much control over your music you can choose exactly how relaxation sounds to you.

Ah, the soothing sound of relaxation…

Elite Audio System

The Elite Audio System includes seat surround speakers and a powered sub-woofer to immerse you with rich high-quality sound. Protect and charge your iPod, iPhone, or other digital music player right in the spa-side water-proof device housing. Or, simply connect via bluetooth and stream your favorite playlists.

Elite Audio Features:

4-8 waterproof in-spa speakers
Optional out-facing Yard Speakers
Powered sub-woofer
Spa-side waterproof iPod, iPhone, MP3 locker
Bluetooth compatibility
USB, iPod, iPhone, and 3.5mm MP3 player inputs
FM Tuner with saved presets
Floating remote control

Surround yourself in rich audio…

Life Audio System

Bullfrog Spas' Life Audio System, available on A Series and R Series Spas, is a spa audio system that sounds great at a price everyone can afford. Play your favorite playlists, artists or songs directly from your iPod, iPhone, Android Phone, or MP3 player. This is the perfect in-spa audio system if you would like the option of occasionally listening to your favorite songs in the spa direct from your device.

Life Audio Features:

4-8 waterproof in-spa speakers
Passive sub-woofer
Bluetooth compatible

Experience a soothing soundscape…
Water Features
Premium Integrated Waterfalls
Nothing adds to the ambience of spa relaxation quite like a peaceful and relaxing waterfall. The soothing sounds of falling waters remind us of beautiful tropical cascades, transporting you in seconds to that tranquil place. Our A Series, R Series, STIL, and X Series spas each feature a unique integrated lighted waterfall with its own unique appeal.
Escape with peaceful falling waters…
Spa Lighting

Premium Interior Lighting

Our A Series, R Series and STIL spas each feature a premium interior lighting package with lighted water feature, filter area and center logo light to enhance your nighttime spa experience.

A Series spas additionally feature lighted cup holders and surround lighting to set just the right mood.

Powerful and energy efficient, these full-color LED lights are capable of producing virtually any color and they beautifully distribute light throughout the spa. You can choose from a variety of effects ranging from calm cool colors to enhance your relaxing and romantic spa experience, to a slowly fading in and out of each color, to a quickly changing multi-colored light show for hot tub parties.

Set the perfect mood…

Exterior Sconce LED Lighting*

Exterior LED sconce lights are placed around the outside perimeter of your spa. These true daylight white LED lights create a safe, illuminated spa environment and make a beautiful addition to your backyard sanctuary that you will appreciate in the evening hours.

Light your backyard sanctuary…
Hot Tub Covers and Hot Tub Cover Lifters
Bullfrog Spas Patio Performance™ Hot Tub Covers
Genuine Patio Performance™ hot tub covers come standard with all Bullfrog Spas. In addition to their high-end look, these long-lasting premium spa covers feature an advanced patio fabric, treated to be UV and fade resistant, as well as weather repellant, and they are up to 25% lighter than standard vinyl hot tub covers. Genuine Bullfrog Spas covers are also designed to provide maximum insulation for energy efficiency. The Patio Performance™ hot tub cover features locking clips for safely securing your spa when not in use and protecting it from opening as a result of wind or extreme weather. Bullfrog Spa covers come in two colors, Pewter (grey) and Espresso (brown).
Protect your spa, while keeping it clean, safe, and efficient…
Hot Tub Cover Lifters
The simple design of Bullfrog's durable cover lifter provides true convenience and functionality. Lift the spa cover and enjoy relaxation in just a couple of seconds. This device creates wonderful privacy as well while you are relaxing in your Bullfrog Spa.
Easily lift and store your hot tub cover…
Easy Entry Hot Tub Steps

Safe and Strong, DuraSteps

Convenient DuraStep hot tub steps are color-matched to the spa cabinet and coordinated with the spa cover. These long-lasting steps create safe and easy access to your Bullfrog spa with a non-slip surface and durable composite construction.

Easy entry and exit…
Water Care Accessories
WellSpring Ozone Purifier System
The WellSpring High-Output Ozone Purifier features Corona Discharge Electrode Technology that consistently helps to keep your spa clean and can significantly reduce the amount of sanitizing chemicals needed.
Clear water with less effort…
WellSpring Circulating Filtration Pump
Bullfrog Spas offers a dedicated and programmable filtration pump to improve water cleansing performance with virtually silent and vibration-free operation. This is the perfect option for spas installed at hotels, apartment or condo balconies, on decks, or on patios near windows.
Quiet filtration to keep water clean & clear…
Spa Jet Options

Stylish Brushed Stainless Steel Jetting

All jets on both A Series and STIL™ spas come standard with a stylish brushed stainless finish. Additionally, the low profile flush mount of these jets (unique to Bullfrog Spas) maintains the uninterrupted flow and and feel the spa as it was designed. No other spa on the market today offers such an elegant look. Your Bullfrog Spa is not only relaxing and comfortable, it will also turn heads with tasteful design elements you just can't get in traditional spas.

Stylish and sophisticated hot tub jets…

Bullfrog Spas Exclusive Hot Tub Jets

Bullfrog Spas® proprietary JetPak® Therapy System uses the world's finest hot tub jets to achieve a variety of unique hydromassage sensations in each seat. Each of our jets has been developed with the assistance of massage and wellness experts to meet a specific therapy objective. From our JetPaks to our in-spa wrist, foot, and leg jets, you're assured a reliable, enjoyable, and therapeutic hydrotherapy experience. Add the world's finest hot tub therapy jets to the customization offered by the patented JetPak Therapy System and Bullfrog's cutting edge spa designs and you get the world's best hot tub experience.

Relax better with Bullfrog's unique hot tub jets…
Deep Relief Jet
The DeepRelief Jet powers away tension, muscle aches, and stress with an intense, deep-tissue massage with a focused deep penetrating pressure.
Firm Relief Jet

The Firm Relief Jet provides a steady pressure that is favored for its "just right" feel and perfect blend of stress relief and relaxation.
Single Pulse Jet
The Single Pulse Jet offers a slow and deliberate pulsing action in the medium to strong range to rhythmically loosen muscles and eliminate stress.
Dual Pulse Jet

The Dual Pulse Jet provides a medium pressure massage with 2 rapidly pulsating spinning jet nozzles for deep relaxation, escape, and stress relief.
Oscillator Jet
The Oscillator Jet is a Bullfrog spas exclusive that gives you a unique and deliberate kneading action that is both therapeutic and soothing.
RainShower Jet

The RainShower Jet gives you a smooth and lightly relaxing massage unlike any other with its constant stream water-only jet action.
Target Therapy Jet
Target Therapy Jets are placed throughout the spa at key tension areas. This jet focuses a firm pressure to relieve specific muscle groups.
Mini Target Therapy Jet

Mini Target Therapy Jets provide a steady stream of powerful targeted therapy for the wrists, hands, and forearms.
Dual Pulse Foot Therapy Jet
The DualPulse Foot Therapy Jet provides a pulsing and relaxing massage for the soles of your feet dialed to just the right intensity.
Personalize Your Hot Tub with SpaDesign

You are unique and your hot tub should fit your unique life. Why would you settle for anything less?

SpaDesign allows you to choose the spa model and layout you want, the JetPaks you need, and the color combination that compliments your home and landscape.
COVID-19 Update
Now is the time to schedule your Spring 2021 Pool Services before the schedule books:
Pool Openings
Sand Changes, DE or Cartridge Cleanings
Vinyl Liner Replacements
Pool Clean-up on green pool
Weekly Pool Cleaning Service
Our Retail Store Locations are open 9 AM- 6 PM Monday- Friday, Saturday 9 AM- 5 PM, and Sunday closed. Our stores do practice social distancing and if the store becomes crowded you may be asked to wait outside or in your car. We do offer curbside pickup, simply arrange over the phone with the store of your choice.