Enjoy two first-of-their-kind Adirondack-inspired premium therapy seats, the incredible double JetPak love seat, or any of several other comfortable and versatile seating options in your new M7 hot tub. With intuitive controls, simple water care, the renowned JetPak Therapy System, amazing aesthetics, and more, all in a mid-size footprint, your M7 by Bullfrog Spas will absolutely delight.

Brochure / DVD Request
Schedule a Consultation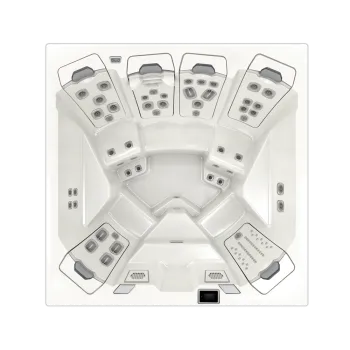 Details
Specifications
JetPaks
Shells & Cabinets
Dimensions
7'7" (2.31m) x 7'7" (2.31m) x 37"

Capacity
JetPaks
Seating Types
| | |
| --- | --- |
| Standard Dimensions (W x L x H) | 7'-7" x 7'-7" x 37" |
| Metric Dimensions (W x L x H) | 2.31m x 2.31m x .94m |
| Total Seats | 9 |
| Bucket Style Seats | 4 |
| Lounge Style Seats | 2 |
| Elevated Seats | 3 |
| Water Capacity (to normal fill line) | 453 Gallons (1716 Liters) |
| Dry Weight (includes Cover) | 455 lbs (206 kg) |
| Maximum Filled Weight (includes Cover) | 3209 lbs (1456 kg) |
| EnduraFrame Construction/Full-Foam/Molded Base | Standard |
| M Series Premium Patio Performance Spa Cover (w/ smart sensor technology) | Standard |
| M Series Spa Cover Lift | Standard |
| M Series Premium Spa Steps | Optional |
| M Series Premium Spa Cabinet | Standard |
| High-Performance 2-Speed Jet Pumps | 2 |
| Dedicated Circulation Pump | Standard |
| M Series Audio (rich surround sound, hidden in-shell speakers, sub-woofer, Bluetooth compatibility, track and volume adjustment through main control, volume adjustment through multi-function auxiliary controls) | Optional |
| M Series Adjustable Headrests | Standard |
| Simplicity™ Filtration System | Standard |
| Simplicity™ Flat Filter | Standard |
| EOS™ 03 Premium Water Care System | Standard |
| M Series Premium Interior LED Lighting | Standard |
| M Series Premium Control-activated Water Feature | Standard |
| M Series Premium Exterior Lighting | Standard |
| Exterior Drain w/ Footwell Drain Fitting | Standard |
| M Series JetPaks | 6, Standard |
| M Series Premium Jets | Standard |
| Hidden Water Return Fittings in JetPods | Standard |
| Foot, Wrist, Hip, Leg, Elevated Seat Therapy Jets | 18 |
| Maximum Jets Available | 270 |