LED Pool Lighting
We're hiring! Apply today for Retail, Construction, Service, or Pool Cleaning. Apply in person at a store or comeplete a form fill here on our website.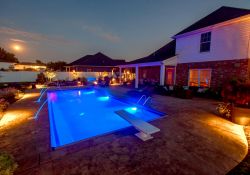 LED Pool Lighting
Adding Lights to a Fiberglass Pool
If you're excited to enjoy your pool for both daytime and nighttime activities, there are plenty of opportunities to add creative pool lights for inground pools for a more dazzling look. Our team can help you strategically place swimming pool LED lights to highlight a pool waterfall, your favorite water features, or nearby landscaping. As well, pool lights are another important safety feature for nighttime swimming.
Swimming pool LED lights encompasses a wide variety of lights, from inground pool lights to colored illuminators that can be turned on with a tap on your smartphone. Here are some of the lighting options you can choose from to illuminate your pool:

COVID-19 Update
Now is the time to schedule your Spring 2021 Pool Services before the schedule books:
Pool Openings
Sand Changes, DE or Cartridge Cleanings
Vinyl Liner Replacements
Pool Clean-up on green pool
Weekly Pool Cleaning Service
Our Retail Store Locations are open 9 AM- 6 PM Monday- Friday, Saturday 9 AM- 5 PM, and Sunday closed. Our stores do practice social distancing and if the store becomes crowded you may be asked to wait outside or in your car. We do offer curbside pickup, simply arrange over the phone with the store of your choice.