Fiberglass Pool Option| Inground Pool Spas
We're hiring! Apply today for Retail, Construction, Service, or Pool Cleaning. Apply in person at a store or comeplete a form fill here on our website.
Fiberglass and Vinyl Liner Pool Option: Inground Pool Spas
A fiberglass or vinyl liner pool with a spillover spa is an affordable luxury that will become your own private oasis:
a retreat in which to shed the day's stressors. Imagine having the resort experience of a warm, softly
bubbling spa in your own backyard. By adding the spillover spa to your pool, you have your complete Backyard Vacation.

Inground Pool Spas
A fiberglass pool and spa are more than an attractive complement to your home. A pool with a spillover hot tub is an opportunity to recharge and refresh in the comfort of your backyard. A soothing soak in your personal spa or a refreshing dip in your pool's cooling waters will be within effortless reach. The beauty and sound of the cascading water as it flows from the spa to the pool allows you to enjoy your pool and spa, whether you're relaxing in it or lounging beside it.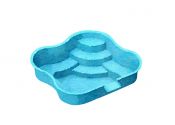 FIBERGLASS AND VINYL LINER POOL OPTION: Latham Spillover Spas for Inground Pools
What style fits your backyard vacation plans? Brown's Pools & Spas believes with Latham Pool Products we can offer you a generous selection of pools and spillover spas in different shapes and sizes that can be customized with gorgeous tile and pool mosaics. Our experts will help you determine the optimal size and shape for your pool spa while working within the constraints of your budget.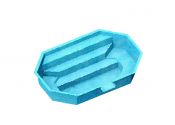 COVID-19 Update
Now is the time to schedule your Spring 2021 Pool Services before the schedule books:
Pool Openings
Sand Changes, DE or Cartridge Cleanings
Vinyl Liner Replacements
Pool Clean-up on green pool
Weekly Pool Cleaning Service
Our Retail Store Locations are open 9 AM- 6 PM Monday- Friday, Saturday 9 AM- 5 PM, and Sunday closed. Our stores do practice social distancing and if the store becomes crowded you may be asked to wait outside or in your car. We do offer curbside pickup, simply arrange over the phone with the store of your choice.