Fiberglass Pool Tanning Ledges
We're hiring! Apply today for Retail, Construction, Service, or Pool Cleaning. Apply in person at a store or comeplete a form fill here on our website.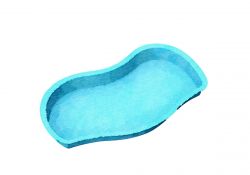 Fiberglass Pool Tanning Ledges
Like swimming pools, tanning ledges can be constructed from several different materials. Two of the most popular options are vinyl, which you can learn more about in our Vinyl Pools section of our website and fiberglass.

Fiberglass has several qualities that make it ideal for tanning ledges. Its smooth texture prevents painful snags or scrapes, while its unique chemical composition ensures high durability. This translates to huge savings over time, since fewer repairs are required. In fact, we are so confident in the quality of our fiberglass tanning ledges that we offer through Latham, you will receive an industry-leading warranty on the product.
How Deep is a Pool Tanning Ledge?
Since tanning ledges are designed for lounging instead of exercising, tanning ledges are intentionally shallow — often, containing less than a foot of water. For example, the Gemini, Semicircle, and Picasso tanning ledges are each 10 inches deep, despite measuring different widths and lengths. It's designed perfectly for lounging in the sun while staying cool in the water.

COVID-19 Update
Now is the time to schedule your Spring 2021 Pool Services before the schedule books:
Pool Openings
Sand Changes, DE or Cartridge Cleanings
Vinyl Liner Replacements
Pool Clean-up on green pool
Weekly Pool Cleaning Service
Our Retail Store Locations are open 9 AM- 6 PM Monday- Friday, Saturday 9 AM- 5 PM, and Sunday closed. Our stores do practice social distancing and if the store becomes crowded you may be asked to wait outside or in your car. We do offer curbside pickup, simply arrange over the phone with the store of your choice.