Fiberglass Pool Features
We're hiring! Apply today for Retail, Construction, Service, or Pool Cleaning. Apply in person at a store or comeplete a form fill here on our website.
Swim Up Seating
Swim up seating or pool benches are the perfect way to enjoy your swimming pool. Submerge yourself partially under the water to effortlessly enjoy your pool. Benches and seats bring a great conversation area into the pool. Most folks just want to relax when they hit the water; these offer a great way to do that. In fact, some of our customers have referred to them as their beverage bench. They enjoy winding down at the end of a long day with their favorite beverage in hand.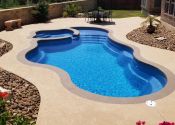 Multiple Points of Entry and Exits
Having multiple entries and exit points has several advantages. More design freedom with the pool and patio layout is one big advantage. If you can only access the pool at one corner, then that naturally limits the position that the pool can be in. Multiple entries and exits are also ideal for those who may tire quickly while swimming, adding a safety feature to the pool.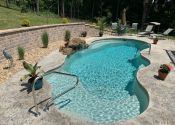 Wading Area
When you are looking for a full body submersion or a great place for youngsters to splash and play, a fiberglass pool design with a nice wading area might be a feature you want to consider. Wading areas are similar to tanning ledges but offer more water depth. Water depth of a wading area can vary and is approximately 14″- 18″ of water.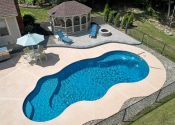 Slip Resistant Steps
These offer secure entry points into the swimming pool. Both young and old will be using the swimming pool, so it is essential to have a convenient option for entering the pool. All entry steps are easy on the feet and help ensure safety.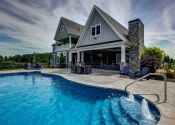 Built-In Spa
Enjoy the added benefit of total relaxation with a built-in spa. Indulge and drift away in your own back yard. Help improve circulation and escape from the daily grind. Melt away built up stress and treat yourself to some well deserved me time.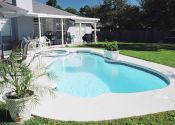 Lifetime Warranty – Structural and Surface
Latham products are known for their innovative technical features, many exclusive and patented, that improve product performance and extend product life. This is why Brown's Pools & Spas are a proud partner with Latham.
We also pay rigorous attention to detail throughout the manufacturing and Quality Assurance process. Because we design and build our products better, we are able to back them better - with the longest, strongest warranties in the business.
Please visit YourPoolWarranty.com for more information.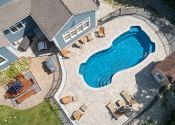 Crystite Color Technology
Crystite Colors and Crystite Technology were introduced to the swimming pool industry in 1995. Over the past 24 years they have become the fiberglass swimming pool industry's premier color family. This is why Latham offers exclusive color options utilizing this leading edge technology.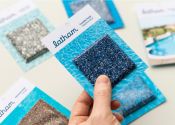 Fiberglass Laminate Construction
Latham's Fiberglass Pools are the strongest in the industry. With the use of Reinforced Ribbing, Carbon Fiber and Biaxal reinforcements as well as Ceramic Infused Polyester combined with Pure VE Fiberglass, Latham is able to increase the strength/flexural stiffness of our shells by 32%.

Auto Cover Ready
Automatic pool covers are safe, reliable, and easy to use. You can open or close your automatic safety cover with the push of a button. Automatic pool covers offer incredible peace of mind for homeowners who want to prevent accidents or keep loved ones and pets out of harm's way.

COVID-19 Update
Now is the time to schedule your Spring 2021 Pool Services before the schedule books:
Pool Openings
Sand Changes, DE or Cartridge Cleanings
Vinyl Liner Replacements
Pool Clean-up on green pool
Weekly Pool Cleaning Service
Our Retail Store Locations are open 9 AM- 6 PM Monday- Friday, Saturday 9 AM- 5 PM, and Sunday closed. Our stores do practice social distancing and if the store becomes crowded you may be asked to wait outside or in your car. We do offer curbside pickup, simply arrange over the phone with the store of your choice.