COLD WEATHER IS HERE, IS YOUR POOL PREPARED?
Return to the Blog Home Page
Living in the south can cause tricky weather patterns come fall and winter. When you have a swimming pool and live in the south, you need to have a cold weather plan for your swimming pool. The plans are simple, either close your pool or keep it opened and running. Many people are shocked at the plan of keeping the pool opened through the cold months.
Once the temperatures have cooled and leaves have finished falling off the trees, pool water tends to stay clear and free and from algae. This is why people select to keep their pool running through the cold months, low maintenance. You still need to perform routine maintenance on your pool: test water chemicals(chlorine, pH,alkalinity, calcium, stabilizer), vacuum pool, brush walls, skim surface, backwash as the pressure indicates it is needed, and empty pump/skimmer baskets. However, you can maintain the pool in moderation now, by cleaning it every other week. On the off weeks check your baskets and make sure the pool water has chlorine and pH is balanced, then do everything else on the week it is due. The important thing to remember is when the temperatures drop below thirty-five degrees, your equipment must run till the temperatures warm back above thirty-five degrees, this will prevent freeze damage.
If you decide to close your pool down (winterize it), then the pool would have a cover placed on it, the equipment would be winterized, and closing chemicals would be added to the pool water. Closing your pool means that nothing will be done to it till Spring. With this option, you need to remember to open the pool before pollen begins falling and warm temperatures are in place, if not you risk opening your pool to green water. As well, you need to add winter algicide one time every 5-6 weeks. Simply lift up a corner of the cover and place into the pool.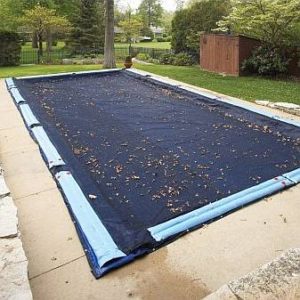 At Brown's Pools we leave the choice up to the client. The important part is managing the details to keep your pool and backyard investment protected during the cold weather months.
Return to the Blog Home Page