Big Green Egg Recipes
Big Green Egg Recipes
Stuffed Burgers

Ingredients:
80/20 Ground Beef (80% meat, 20% fat)
2 tomatoes (sliced)
Mozzarella cheese (sliced)
Prosciutto (sliced)
Crumbled blue cheese
BBQ rub or season to taste
Method
Set the EGG for direct cooking at 400°F /204°C and cook burgers for 5-6 minutes per side.
Serves 6
Chicken & Veggie Stir Fry

Stir-frying is a fast, easy and healthful way to cook and shows just how versatile the EGG can be. Though chicken is used here, you can easily make this dish with just about any meat or vegetable that you have on hand. Just remember that to ensure even cooking, try to cut all of your vegetables about the same size. The Vegetable Fried Rice is a great side to serve with this dish.
Ingredients
2 tablespoons toasted sesame oil
1½ teaspoons plus 1½ teaspoons minced garlic
1½ teaspoons plus 1½ teaspoons minced fresh ginger
2 pounds boneless, skinless chicken breasts, cubed
½ cup rice wine
½ cup light soy sauce
½ cup chicken stock
¼ cup hoisin sauce
2 tablespoons rice wine vinegar
2 tablespoons granulated sugar
2 tablespoons cornstarch
1 teaspoon chili garlic sauce (optional)
½ cup canola oil
4 cups broccoli florets
1 cup broccoli stems, trimmed and julienned
1 cup julienned carrots
1 cup drained water chestnuts, diced
1 tablespoon toasted sesame seeds
Instructions
Set the EGG for direct cooking at 500ºF/260ºC.
Combine the sesame oil, 1½ teaspoons of the garlic, and 1½ teaspoons of the ginger in a small bowl, add the chicken, and toss to coat. Let the chicken marinate for 30 minutes.
To make the sauce, mix the remaining 1½ teaspoons garlic, 1½ teaspoons ginger, rice wine, soy sauce, chicken stock, hoisin sauce, rice wine vinegar, sugar, cornstarch, and chili garlic sauce in a small bowl. Set aside.
Place a Paella Pan on the grid and preheat for 2 minutes.
Place the canola oil and chicken in the Paella Pan. Close the lid of the EGG and cook for 5 to 6 minutes, until seared on all sides. Add the broccoli florets and stems, carrots, and water chestnuts and cook for 2 to 3 minutes, stirring well. Add the sauce and continue to cook until the sauce has thickened. Remove the Paella Pan from the EGG.
Transfer the stir-fry to a bowl and garnish with the sesame seeds.
Serves 6
Stuffed Jalapeño Peppers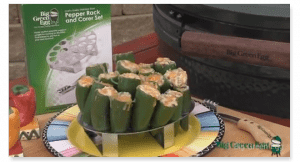 Ingredients:
•2 ½ cups grated Parmesan Cheese
•10 Jalapeno peppers (split and seeded)
•1 pound Ground Turkey
•8 ounces cream cheese
•4 ounces shredded cheddar
Method
Using the Jalapeño Corer from the Big Green Egg Jalapeño Pepper Rack, cut off stem end of the jalapeños and remove the seeds. Be careful not to touch eyes or face, as pepper juice can sting.
Place parmesan cheese, turkey and cream cheese in a food processor. Blend the product until all ingredients are combined.
Spoon the mixture into each of the split Jalapenos.
Grill the jalapeños using Plate Setter for indirect heat at 375°F/190°C until the peppers are tender and lightly browned, about 20 to 30 minutes for twenty average size peppers.
Add the shredded cheese 2 minutes before you finish cooking the peppers so that it will have time to melt.
COVID-19 Update
Now is the time to schedule your Spring 2021 Pool Services before the schedule books:
Pool Openings
Sand Changes, DE or Cartridge Cleanings
Vinyl Liner Replacements
Pool Clean-up on green pool
Weekly Pool Cleaning Service
Our Retail Store Locations are open 9 AM- 6 PM Monday- Friday, Saturday 9 AM- 5 PM, and Sunday closed. Our stores do practice social distancing and if the store becomes crowded you may be asked to wait outside or in your car. We do offer curbside pickup, simply arrange over the phone with the store of your choice.