Above-ground Options
We're hiring! Apply today for Retail, Construction, Service, or Pool Cleaning. Apply in person at a store or comeplete a form fill here on our website.
Above-ground Options
Customize your new aboveground pool package to fit your needs and priorities with one or more of these pool features and options:
STEPS/LADDERS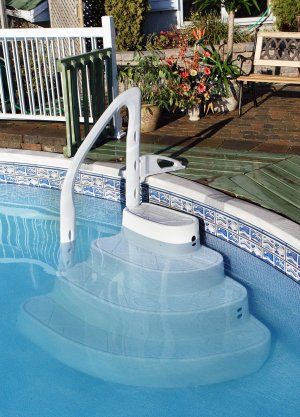 The Majestic Step, our largest in-pool aboveground step is intended for pools that will have decking bult around them. Its radius steps provide younger swimmers a place to sit or stand in the pool while others can still enter or exit the pool. The step rests on suction cups on the pool floor for added stability and protection of the pool liner and includes a niche for optional LED lighting to be mounted into the step assembly.
---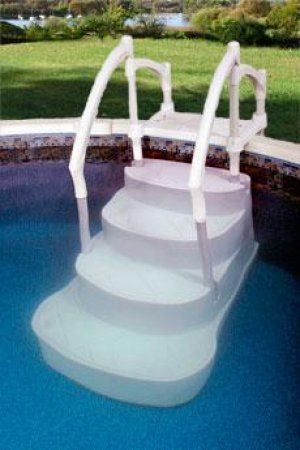 The Opera Step, the Opera step's compact design features two handrails for added safety. This step is intended for pools with entry decking and includes braces that should be mounted to the wood deck. Like the Majestic Step from Innovaplas, the Opera Step is single-piece roto-molded resin design, the best in-pool step design for maximum structural strength and rigidity
---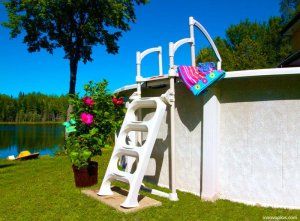 The Classic Ladder II, this outside entry ladder integrates seamlessly with the Opera Step system for pool without surrounding wood decking. The outside ladder flips up and includes a safety lock for code-compliant access restriction to the pool entry.
---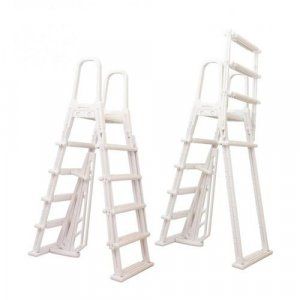 The A-Frame Pool Entry Ladder, standard two-sided ladder entry includes a flip-outside ladder for access restriction and an entrapment barrier on the interior ladder.
---
POOL LIGHTING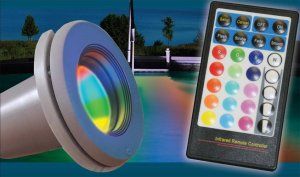 The Crystalite Color LED Light with Remote, compatible with both the Majestic and Opera steps, this color LED light fixture mounts directly within the pool step for great illumination of the pool entry. A fun feature for night-time swimming!
---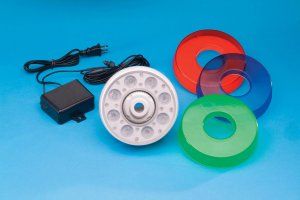 The Jet Light, this light is compatible with any Doughboy pool and mounts to the pool wall at the return jet. It's color LED lighting provides a great accent for your pool.
---
The Hayward Elite Light, for pools where the Crystalite and Jet Light cannot be used, consider the Elite Light. This 50-Watt white halogen can be installed on any side of the pool wall.
---
The Nitelighter Wall Light, this 50-Watt fixture can mount anywhere along the pool wall without any permanent modification to the pool structure. Add multiple lights for night swimming fun!
---
POOL CLEANERS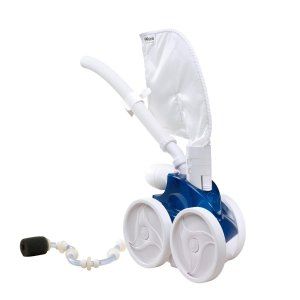 The Polaris 360 Automatic Cleaner, this pressure side pool cleaner is powered by water flow returning from the pool's pump and provides the most reliable and thorough automatic cleaning available for an aboveground pool. It's ideal for pools with a large surface area and enhances water circulation throughout the pool.
---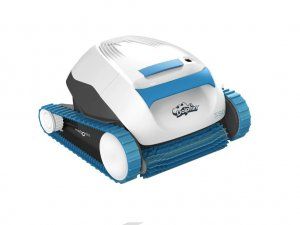 The Dolphin S 50 Robotic Pool Cleaner - A reliable plug-and-play cleaner designed specificallyfor use in above-ground pool. This self-contained cleaning unit needs only a 110V power connection to deliver consistent pool floor scrubbing and debris pickup, and servicing the cleaner is simple with its Easy-Clean Net Canister.
---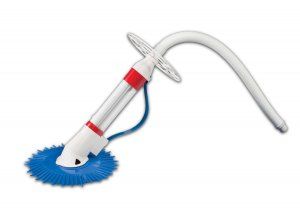 The Patriot Vacuum from Doughboy Pools, This economical automatic pool vacuum is an easy and efficient way to keep your pool sparkling clean. Utilizing the filter pump's suction of for it's cleaning power, this cleaner is designed to work specifically with the Doughboy pool skimmer assembly's vacuum port.
---
The AquaBug Pool Suction Cleaner, a reliable alternative to the pulsating suction cleaner, this workaholic gets the job done in any aboveground pool and work well around any in-pool entry systems using its unique internal navigation system.
---
PUMP TIMERS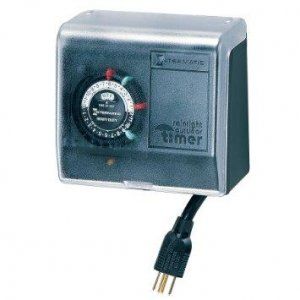 120V 24-hour Plug-in Timer, this timer requires no additional wiring and will pay for itself in only a few months by saving on power consumption.
---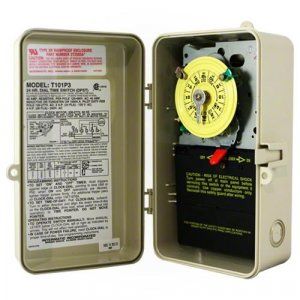 Intermatic 120V Mechanical Timer, for a sturdier timer for pumps that will be hardwired, this Intermatic timer is a simple and reliable solution.

---
Learn more about our pool package options and receive your own custom price quote by contacting our store nearest you or using the request form below.
COVID-19 Update
Now is the time to schedule your Spring 2021 Pool Services before the schedule books:
Pool Openings
Sand Changes, DE or Cartridge Cleanings
Vinyl Liner Replacements
Pool Clean-up on green pool
Weekly Pool Cleaning Service
Our Retail Store Locations are open 9 AM- 6 PM Monday- Friday, Saturday 9 AM- 5 PM, and Sunday closed. Our stores do practice social distancing and if the store becomes crowded you may be asked to wait outside or in your car. We do offer curbside pickup, simply arrange over the phone with the store of your choice.